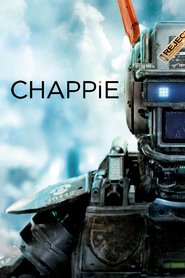 0.00/5 0 Votes
Title:
Chappie
Tagline: I am consciousness. I am alive. I am Chappie.
Genre: Action, Science Fiction, Thriller
Director: Neill Blomkamp
Cast: Sharlto Copley, Dev Patel, Ninja, Yolandi Visser, Jose Pablo Cantillo, Hugh Jackman, Sigourney Weaver, Brandon Auret, Johnny Selema, Anderson Cooper, Maurice Carpede, Jason Cope, Kevin Otto, Chris Shields, Bill Marchant, Robert Hobbs, Eugene Khumbanyiwa, Mark K. Xulu, Sherldon Marema, Shaheed Hajee, James Hendricks, Julian Brits, David Davadoss, Anneli Muller, Kendal Watt, Chan Marti, Vuyelwa Booi, Mike Blomkamp, Anthony Bishop, Paul Dobson, Max Poolman, Alistair Prodgers, Wandile Molebatsi, Arran Henn, Thami Ngubeni, James Bitonti, Andea Volschenk, Hein De Vries, Dan Hirst, Paul Hampshire, Graeme Duffy, Miranda Frigon, Edwin Gagiano, Janus Prinsloo, Sean O. Roberts
Release: 2015-03-04
Runtime: 120
Plot:
Every child comes into the world full of promise, and none more so than Chappie: he is gifted, special, a prodigy. Like any child, Chappie will come under the influence of his surroundings—some good, some bad—and he will rely on his heart and soul to find his way in the world and become his own man. But there's one thing that makes Chappie different from any one else: he is a robot.