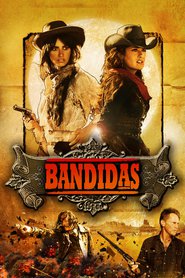 4.00/5 1 Votes
Title:
Bandidas
Tagline: Being BAD never looked so GOOD!
Genre: Action, Comedy, Western, Crime
Director: Joachim Rønning, Espen Sandberg
Cast: Penélope Cruz, Salma Hayek, Dwight Yoakam, Steve Zahn, Denis Arndt, Audra Blaser, Sam Shepard, Ismael 'East' Carlo, Gary Carlos Cervantes, José María Negri, Lenny Zundel, Édgar Vivar, Ernesto Gómez Cruz, Filiberto Estrella, Yomo Tlazotlalli, Humberto Elizondo, Justo Martínez
Release: 2006-01-18
Runtime: 93
Plot:
Set in the late 19th century. When a ruthless robber baron takes away everything they cherish, a rough-and-tumble, idealistic peasant and a sophisticated heiress embark on a quest for justice, vengeance…and a few good heists.