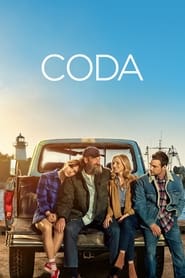 0.00/5 0 Votes
Title:
CODA
Tagline: Every family has its own language.
Genre: Drama, Music, Romance
Director: Siân Heder
Cast: Emilia Jones, Marlee Matlin, Troy Kotsur, Eugenio Derbez, Ferdia Walsh-Peelo, Daniel Durant, Amy Forsyth, Kevin Chapman, John Fiore, Lonnie Farmer, Courtland Jones, Molly Beth Thomas, Ayana Brown, Jason Pugatch, Kyana Fanene, Anilee List, Stone Martin, Maeve Chapman, Stephen Caliskan, Amanda Bradshaw, Bryan Sabbag, Kayla Caulfield, Samidio DePina, Dominic Andersen, Jose Guns Alves, Owen Burke, Lance Norris, Mark Pettograsso, Tony Viveiros, Armen Garo, Jared Voss, Emilia Faucher, Marilyn Busch, Melissa McMeekin, Erica McDermott, Garrett McKechnie, Rebecca Gibel, TJ Ciarametaro, Gary Galone, Nikki Kim, Mary Ann Schaub, Cassandra Berta, Sarah Clarke, Rena Maliszewski, David Newsom, Kiara Pichardo, Pamela Jayne Morgan
Release: 2021-08-11
Runtime: 112
Plot:
As a CODA (Child of Deaf Adults), Ruby is the only hearing person in her deaf family. When the family's fishing business is threatened, Ruby finds herself torn between pursuing her love of music and her fear of abandoning her parents.