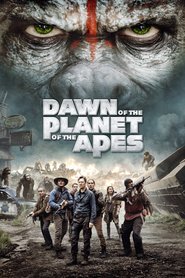 4.00/5 1 Votes
Title:
Dawn of the Planet of the Apes
Tagline: One last chance for peace.
Genre: Science Fiction, Action, Drama, Thriller
Director: Matt Reeves
Cast: Andy Serkis, Jason Clarke, Gary Oldman, Keri Russell, Toby Kebbell, Kodi Smit-McPhee, Kirk Acevedo, Judy Greer, Terry Notary, Karin Konoval, Larramie Doc Shaw, Nick Thurston, Jocko Sims, Enrique Murciano, Keir O'Donnell, Lee Ross, Lombardo Boyar, Kevin Rankin, Jon Eyez, Richard King, Lucky Johnson, Al Vicente, Matthew James, Scott Lang, Deneen Tyler, Mustafa Harris, Mike Seal, J.D. Evermore, Chase Boltin, Michael Papajohn, Thomas Rosales Jr., Carol Sutton, Christopher Berry
Release: 2014-06-26
Runtime: 130
Plot:
A group of scientists in San Francisco struggle to stay alive in the aftermath of a plague that is wiping out humanity, while Caesar tries to maintain dominance over his community of intelligent apes.