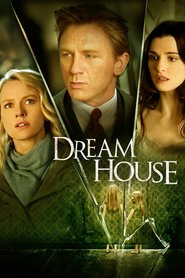 0.00/5 0 Votes
Title:
Dream House
Tagline: Once upon a time, there were two little girls who lived in a house.
Genre: Drama, Thriller, Mystery
Director: Jim Sheridan
Cast: Daniel Craig, Naomi Watts, Rachel Weisz, Marton Csokas, Elias Koteas, Taylor Geare, Claire Geare, Rachel G. Fox, Jane Alexander, Brian Murray, Bernadette Quigley, Sarah Gadon, Gregory Smith, David Huband, Mark Wilson
Release: 2011-09-30
Runtime: 92
Plot:
Publisher Will Atenton (Daniel Craig) quits a lucrative job in New York to relocate his wife, Libby (Rachel Weisz), and their daughters to a quaint town in New England. As they settle into their home, however, the Atentons discover that a woman and her children were murdered there, and the surviving husband is the town's prime suspect. With help from a neighbor (Naomi Watts) who was close to the murdered family, Will pieces together a horrifying chain of events.