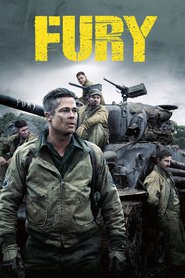 5.00/5 1 Votes
Title:
Fury
Genre: Action, Drama, War
Director: David Ayer
Cast: Brad Pitt, Shia LaBeouf, Logan Lerman, Michael Peña, Jon Bernthal, Jim Parrack, Brad William Henke, Kevin Vance, Xavier Samuel, Jason Isaacs, Anamaria Marinca, Alicia von Rittberg, Scott Eastwood, Eugenia Kuzmina, Jake Curran, Eric Kofi Abrefa, Adam Ganne, Marek Oravec, Zach Avery
Release: 2014-10-15
Runtime: 135
Plot:
Last months of World War II in April 1945. As the Allies make their final push in the European Theater, a battle-hardened U.S. Army sergeant in the 2nd Armored Division named Wardaddy commands a Sherman tank called "Fury" and its five-man crew on a deadly mission behind enemy lines. Outnumbered and outgunned, Wardaddy and his men face overwhelming odds in their heroic attempts to strike at the heart of Nazi Germany.