Well-Known Member
Applications Owner
Raffles Owner
TMDb Threads Owner
OSB Display Owner
PayPal Balance Owner
Custom Add-On Owner
Social Groups Owner
XF2 Groups Owner
XF2 Raffles Owner
XF2 OSB Owner
XF2 Movies Owner
XF2 TV Owner
XF 2 PayPal Owner
XF2 Games Owner
XF 2 Style Stats
XF 2 Music Owner
5.00 star(s)
Rating: 5.00/5 1 Votes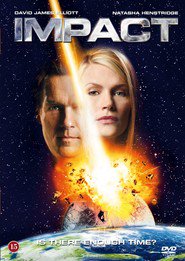 Title:
Impact
Tagline: Get ready to experience the dark side of the moon!
Genre: Adventure, Drama, Action
Director: Mike Rohl
Cast: David James Elliott, Natasha Henstridge, Florentine Lahme, James Cromwell, Steven Culp, Owen Best, Natasha Calis, Benjamin Sadler
Release: 2009-06-21
Runtime: 120
Plot:
While the entire world watches the largest meteor shower in 10,000 years, a rogue asteroid, hidden by the meteor field, smashes into the moon in a tremendous explosion of rock and debris. Fragments from the asteroid, and even from the moon itself, penetrate Earth's atmosphere and make impact. Even though the initial damage is minimal, nerves are frayed throughout the planet. There is significant physical damage to the lunar surface, but experts quickly conclude there will be no lasting ramifications. Then strange anomalies begin to manifest themselves on Earth. It starts small - cell phone disruptions, unusual static charges and odd tidal behavior. The world's leading scientists, including Alex Kittner, Maddie Rhodes and Roland Emerson, begin piecing together evidence that suggests the moon's properties, and its orbit, may have been permanently altered. Their fears are realized...