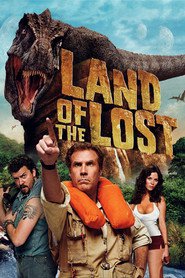 1.00/5 1 Votes
Title:
Land of the Lost
Tagline: Right place. Wrong time.
Genre: Adventure, Comedy, Science Fiction
Director: Brad Silberling
Cast: Will Ferrell, Anna Friel, Danny McBride, Jorma Taccone, Matt Lauer, Bobb'e J. Thompson, Sierra McCormick, Shannon Lemke, Stevie Wash Jr., Brian Huskey, Kevin Buitrago, Noah Crawford, Jon Kent Ethridge, Logan Manus, John Boylan, Marti Matulis, Kiernan Shipka, Dylan Sprayberry
Release: 2009-06-05
Runtime: 102
Plot:
On his latest expedition, Dr. Rick Marshall is sucked into a space-time vortex alongside his research assistant and a redneck survivalist. In this alternate universe, the trio make friends with a primate named Chaka, their only ally in a world full of dinosaurs and other fantastic creatures.