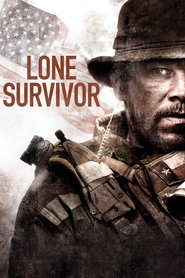 4.00/5 1 Votes
Title:
Lone Survivor
Tagline: Based on True Acts of Courage
Genre: Action, Drama, Thriller, War
Director: Peter Berg
Cast: Mark Wahlberg, Taylor Kitsch, Emile Hirsch, Ben Foster, Yousuf Azami, Ali Suliman, Eric Bana, Alexander Ludwig, Rich Ting, Dan Bilzerian, Jerry Ferrara, Rick Vargas, Scott Elrod, Gregory Rockwood, Ryan Kay, Patrick Griffin, Josh Berry, Eric Steinig, David Shepard, Justin Tade, Sterling Jones, Jason Riggins, Matthew Page, Johnny Bautista, Sammy Sheik, Nicholas Patel, Daniel Arroyo, Zarin Rahimi, Rohan Chand, Anthony McKenzie, Brian Call, Ishmael Antonio, Samuel Cloud, Perparim 'Peter' Bici, Henry Penzi, Robert Loerke, Kurt Carlson, Daniel Fulcoly, Michael P. Herrmann, Paul Craig, Zabiullah Mirzai, John Hocker, Robert H. Doudell, Hillel Michael Shamam, Edmund Blanchet, Jim Cusic, Corey Large
Release: 2013-12-24
Runtime: 121
Plot:
Based on the failed June 28, 2005 mission "Operation Red Wing." Four members of SEAL Team 10, were tasked with the mission to capture or kill notorious Taliban leader, Ahmad Shah. Only one member of the team survived.