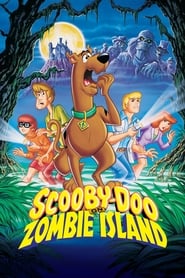 5.00/5 1 Votes
Title:
Scooby-Doo on Zombie Island
Tagline: This time, the monsters are real!
Genre: Animation,Mystery,Family,Horror
Director: Jim Stenstrum,Hiroshi Aoyama,Kazumi Fukushima
Cast: Scott Innes,Billy West,Mary Kay Bergman,Frank Welker,B.J. Ward,Adrienne Barbeau,Tara Strong,Cam Clarke,Jim Cummings,Mark Hamill,Jennifer Leigh Warren,Ed Gilbert
Status: Released
Release: 1998-09-22
Runtime: 77
Plot:
After going their separate ways, Scooby-Doo, Shaggy, Velma, Daphne, and Fred reunite to investigate the ghost of Moonscar the pirate on a haunted bayou island, but it turns out the swashbuckler's spirit isn't the only creepy character on the island. The sleuths also meet up with cat creatures and zombies... and it looks like for the first time in their lives, these ghouls might actually be real.
Scott Innes

Scooby-Doo (voice)

Billy West

Shaggy Rogers (voice)

Mary Kay Bergman

Daphne Blake (voice)

Frank Welker

Fred Jones (voice)

B.J. Ward

Velma Dinkley (voice)

Adrienne Barbeau

Simone (voice)

Tara Strong

Lena Dupree (voice)

Cam Clarke

Beau Neville (voice)

Jim Cummings

Jacques (voice)

Mark Hamill

Snakebite Scruggs (voice)

Jennifer Leigh Warren

Chris (voice)

Ed Gilbert

Mr. Beeman (voice)

William DeBoer, Jr. (Editing)

Negative Cutter

Michael Jiron (Sound)

Sound Re-Recording Mixer

Lu Palazzola (Editing)

Negative Cutter

William Olson (Sound)

Sound Recordist

Michael Diaz (Production)

Production Assistant

Sharra Gage (Production)

Production Assistant

Lisa Melcombe (Production)

Production Assistant

Steven Bramson (Sound)

Conductor

Linda Moore (Production)

Production Assistant

Barbara Bartz (Production)

Production Assistant

Nancy Grimaldi (Production)

Production Assistant

Mannix Bennett (Art)

Other

Amy E. Wagner (Crew)

Other

Glenn Leopold (Writing)

Lyricist

Athena Christianakis (Production)

Administration

Maria Womack (Production)

Administration

Davis Doi (Production)

Supervising Producer

Lance Falk (Visual Effects)

Modeling

Joseph Barbera (Writing)

Characters

Don Messick (Crew)

In Memory Of

Andrew Gentle (Art)

Background Designer

Adrian Gonzales (Art)

Storyboard Artist

Jim Stenstrum (Directing)

Director

Hiroshi Aoyama (Directing)

Director

Kazumi Fukushima (Directing)

Director

William Hanna (Writing)

Characters

Tim Iverson (Crew)

Post-Production Manager

Rick Hinson (Sound)

Sound Effects Editor

Andy Lewis (Production)

Production Manager

Howard Schwartz (Production)

Production Supervisor

Scooby-Doo on Zombie Island - Trailer

Scooby-Doo on Zombie Island (1998) Trailer (VHS Capture)