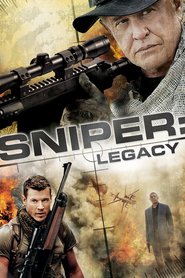 4.00/5 1 Votes
Title:
Sniper: Legacy
Genre: Thriller, Action
Director: Don Michael Paul
Cast: Tom Berenger, Chad Michael Collins, Dennis Haysbert, Asen Asenov, Woon Young Park, Doug Allen, Dominic Mafham, Mercedes Mason, Vasil Enev, Patrick Garrity, Mark Lewis Jones, Danko Jordanov, Yana Marinova, Alex Roe, Nestor Serrano, George Zlatarev
Release: 2014-09-29
Runtime: 94
Plot:
A rogue gunman is assassinating high-ranking military officers one by one. When Gunnery Sgt. Brandon Beckett is informed his father, legendary shooter Thomas Beckett has been killed, Brandon springs into action to take out the perpetrator. But when his father rescues him from an ambush, Brandon realizes he's a pawn being played by his superiors to draw out the killer. It's up to the two men, bound by blood, to bring an end to the carnage.