Well-Known Member
Applications Owner
Raffles Owner
TMDb Threads Owner
OSB Display Owner
PayPal Balance Owner
Custom Add-On Owner
Social Groups Owner
XF2 Groups Owner
XF2 Raffles Owner
XF2 OSB Owner
XF2 Movies Owner
XF2 TV Owner
XF 2 PayPal Owner
XF2 Games Owner
XF 2 Style Stats
XF 2 Music Owner
0.00 star(s)
Rating: 0.00/5 0 Votes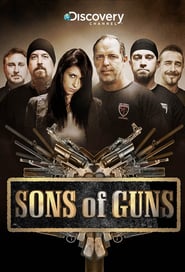 Title:
Sons of Guns
Genre: Documentary
First aired: 2011-01-26
Cast: William Hayden
Overview:
Sons of Guns is a reality television series that airs on the Discovery Channel. The series centers on Red Jacket Firearms LLC, a Louisiana-based business that manufactures and sells custom weapons. Will Hayden is the founder and owner of the shop, while his daughter and business partner Stephanie manages the office. As on the Discovery Channel series MythBusters, this show practices a degree of self-censorship and safety-consciousness. Each episode begins with a staff member warning viewers not to try anything demonstrated on the show at home. In addition, during scenes of catastrophic failure, the crew will remind the audience not to try anything at home. The program also makes a noted point to avoid showing specific detail of how weapon modifications or fabrications are performed.