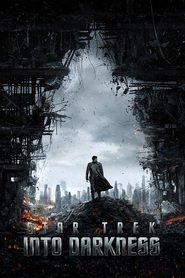 1.00/5 2 Votes
Title:
Star Trek Into Darkness
Tagline: Earth Will Fall
Genre: Action, Adventure, Science Fiction
Director: J.J. Abrams
Cast: Chris Pine, Zachary Quinto, Zoe Saldana, Karl Urban, Simon Pegg, John Cho, Benedict Cumberbatch, Anton Yelchin, Bruce Greenwood, Peter Weller, Alice Eve, Noel Clarke, Nazneen Contractor, Amanda Foreman, Aisha Hinds, Joseph Gatt, Sean Blakemore, Nick E. Tarabay, Beau Billingslea, Deep Roy, Chris Hemsworth, Jack Laufer, Katie Cockrell, Kellie Cockrell, Jennifer Morrison, Leonard Nimoy, Kimberly Arland, Jonathan Dixon, Jeremy Raymond, Jay Scully, Tony Guma, Anjini Taneja Azhar, Jason Matthew Smith, Seth Ayott, Marco Sanchez, Lee Reherman, Scott Lawrence, Usman Ally, Nolan North, James Hiroyuki Liao, Rob Moran, Akiva Goldsman, Gianna Simone, Rene Rosado, Berit Francis, Benjamin P. Binswanger, Christopher Doohan, Andy Demetrio, Jacquelynn King, Long Tran, Ningning Deng, Jodi Johnston, Colleen Harris, Jeff Chase, Ser'Darius Blain, Heather Langenkamp, Melissa Paulo, Cynthia Addai-Robinson, Monisola Akiwowo, Paul K. Daniel, Drew Grey, David C. Waite, Douglas Weng, Charlie Haugk, Max Chernov, Marc Primiani, Jesper Inglis, Jacob Rhodes, Kentucky Rhodes, Anthony Wilson, Eric Greitens, Melissa Steinman, Adam McCann, Jon Orvasky, Gerald W. Abrams, James McGrath, Brian T. Delaney, Arlen Escarpeta, Joe Moses, Kevin Michael Richardson, David Sobolov, Matthew Wood, Fred Tatasciore, Kiff VandenHeuvel, Audrey Wasilewski, Bill Hader, Tom Archdeacon, Jon Lee Brody, Britanni Johnson, Hiram A. Murray, Chris Gardner, Julianne Buescher, Joe Hanna, David Acord, Ellie Newlands, Candice Renee, Emily Towers, Gina Hirsch
Release: 2013-05-05
Runtime: 132
Plot:
When the crew of the Enterprise is called back home, they find an unstoppable force of terror from within their own organization has detonated the fleet and everything it stands for, leaving our world in a state of crisis. With a personal score to settle, Captain Kirk leads a manhunt to a war-zone world to capture a one man weapon of mass destruction. As our heroes are propelled into an epic chess game of life and death, love will be challenged, friendships will be torn apart, and sacrifices must be made for the only family Kirk has left: his crew.