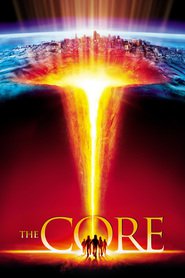 4.00/5 2 Votes
Title:
The Core
Tagline: The core of the earth has stopped spinning
Genre: Science Fiction
Director: Jon Amiel
Cast: Aaron Eckhart, Hilary Swank, Delroy Lindo, Stanley Tucci, Tchéky Karyo, DJ Qualls, Richard Jenkins, Bruce Greenwood, Christopher Shyer, Ray Galletti, Eileen Pedde, Rekha Sharma, Tom Scholte, Glenn Morshower, Anthony Harrison, Alfre Woodard, Fred Keating, Bart Anderson, Nicole Leroux, Justin Callan, Chris Humphreys, Dion Johnstone, Fred Ewanuick, Hrothgar Mathews, Ming-Tzong Hong, Jennifer Spence, Michael St. John Smith, John Shaw, Nickolas Baric, Rosa Di Brigida, Roberto Roberto, Ermanno De Biagi, Marcello Laurentis, Matt Winston, Claire Riley, Marke Driesschen, Laurie Murdoch, Costa Spanos, Monique Martel, Lenie Scoffié, Nathaniel DeVeaux, Robert Manitopyes, Alejandro Abellan, Benjamin Barton, Angelica Hayden, Robert Paul Lewis, Alec Medlock, Alonso Oyarzun, Priscilla Poland, Shawn Green, Greg Bennett, Jeffrey Gold, Rick Kain, Pamela Martin
Release: 2003-03-28
Runtime: 135
Plot:
The Earth's core has stopped spinning and disasters are appearing all over the world; Birds are acting crazy, magnetic fields are causing huge electrical thunderstorms and people dying every second.Dr. Josh Keyes (Aaron Eckhart) and his crew have to travel down to the centre of the Earth and drop a nuclear bomb in an attempt to make the Earth's core spin once again. Or Mankind will perish...