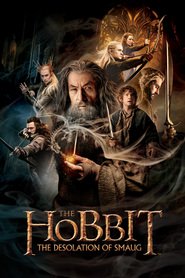 2.00/5 1 Votes
Title:
The Hobbit: The Desolation of Smaug
Tagline: Beyond darkness... beyond desolation... lies the greatest danger of all.
Genre: Action, Adventure, Fantasy
Director: Peter Jackson
Cast: Martin Freeman, Ian McKellen, Richard Armitage, Ken Stott, Graham McTavish, William Kircher, James Nesbitt, Stephen Hunter, Dean O'Gorman, Aidan Turner, Benedict Cumberbatch, Lee Pace, Luke Evans, Evangeline Lilly, Orlando Bloom, Mikael Persbrandt, Manu Bennett, Stephen Fry, John Bell, Sylvester McCoy, Terry Notary, Peter Hambleton, Cate Blanchett, Stephen Colbert, Jed Brophy, Sarah Peirse, Mary Nesbitt, Peggy Nesbitt, Mark Hadlow, John Callen, Adam Brown, Ben Mitchell
Release: 2013-12-11
Runtime: 161
Plot:
The Dwarves, Bilbo and Gandalf have successfully escaped the Misty Mountains, and Bilbo has gained the One Ring. They all continue their journey to get their gold back from the Dragon, Smaug.