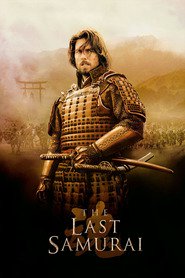 5.00/5 1 Votes
Title:
The Last Samurai
Tagline: In the face of an enemy, in the Heart of One Man, Lies the Soul of a Warrior.
Genre: Drama, Action, War, History
Director: Edward Zwick
Cast: Tom Cruise, Ken Watanabe, William Atherton, Chad Lindberg, Billy Connolly, Tony Goldwyn, Shichinosuke Nakamura, Koyuki, Timothy Spall, Togo Igawa, Scott Wilson, Shun Sugata, Shin Koyamada, Hiroyuki Sanada, Masato Harada, Masashi Odate, John Koyama, Satoshi Nikaido, Shintaro Wada, Sosuke Ikematsu, Aoi Minato, Shoji Yoshihara, Seizô Fukumoto, Ray Godshall Sr., Kosaburo Nomura IV, Takashi Noguchi, Noguchi Takayuki, Sven Toorvald, Yuki Matsuzaki, Mitsuyuki Oishi, Jiro Wada, Hiroshi Watanabe, Yusuke Myochin, Hiroaki Amano, Kenta Daibo, Koji Fujii, Makoto Hashiba, Shimpei Horinouchi, Takashi Kora, Shane Kosugi, Takeshi Maya, Seiji Morita, Lee Murayama, Takeru Shimizu, Shinji Suzuki, Hisao Takeda, Ryoichiro Yonekura
Release: 2003-12-05
Runtime: 154
Plot:
Nathan Algren is an American hired to instruct the Japanese army in the ways of modern warfare -- in this lush epic set in the 1870s, which finds Algren learning to respect the samurai and the honorable principles that rule them. Pressed to destroy the samurai's way of life in the name of modernization and open trade, Algren decides to become an ultimate warrior himself and to fight for their right to exist.