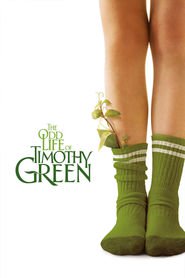 4.00/5 1 Votes
Title:
The Odd Life of Timothy Green
Tagline: He's a force of nature.
Genre: Fantasy, Drama, Comedy, Family
Director: Peter Hedges
Cast: Jennifer Garner, Joel Edgerton, Ron Livingston, Rosemarie DeWitt, CJ Adams, Patrick Brouder, Chan Creswell, William J. Harrison, Odeya Rush, Shohreh Aghdashloo, David Morse, M. Emmet Walsh, Lois Smith, Dianne Wiest, James Rebhorn, Common, Lin-Manuel Miranda, Shimei Bailey, Michael Arden, Rhoda Griffis, Karan Kendrick, Tara Lee, Kendall Ryan Sanders
Release: 2012-08-15
Runtime: 105
Plot:
A childless couple bury a box in their backyard, containing all of their wishes for an infant. Soon, a child is born, though Timothy Green is not all that he appears.