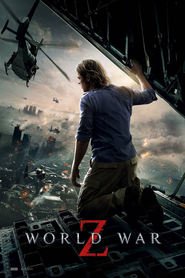 4.33/5 3 Votes
Title:
World War Z
Tagline: Remember Philly!
Genre: Action, Drama, Horror, Science Fiction, Thriller
Director: Marc Forster
Cast: Brad Pitt, Mireille Enos, Abigail Hargrove, Sterling Jerins, James Badge Dale, Elyes Gabel, David Andrews, Daniella Kertesz, Ludi Boeken, Fana Mokoena, Fabrizio Zacharee Guido, David Morse, Matthew Fox, Peter Capaldi, Moritz Bleibtreu, Ruth Negga, Pierfrancesco Favino, Konstantin Khabenskiy, Troy Glasgow, Nick Bartlett, Julia Levy-Boeken, Ann Ogbomo
Release: 2013-06-20
Runtime: 116
Plot:
Life for former United Nations investigator Gerry Lane and his family seems content. Suddenly, the world is plagued by a mysterious infection turning whole human populations into rampaging mindless zombies. After barely escaping the chaos, Lane is persuaded to go on a mission to investigate this disease. What follows is a perilous trek around the world where Lane must brave horrific dangers and long odds to find answers before human civilization falls.
Last edited: