Compatible XF Versions

2.1
2.2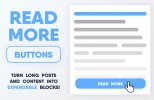 This simple addon collapses long areas of content on mobile devices into an expandable block and "Read more..." button. This feature is very similar to the widely seen "Read more" links on Wordpress blogs and many articles on the web.
How else is this addon useful?
Very long posts or articles can actually actually cause what is known as
CLS
(Content Layout Shift) and
LCP
(Largest Contentful Paint) issues in page performance tools, such as Lighthouse. These are also factored into your site's performance in Google Search Console.
By collapsing long content into collapsible blocks, your page can render faster in the visitor's browser, and increase your page performance score!
Supports:
Thread first posts
Xenforo Resource Manager resource pages
DragonByte eCommerce product descriptions
.. more to be added with suggestions!
FAQ
Q: How do I set it up?
A: After install, go to
Admin -> Options -> [Nulumia] Read More Buttons
for settings and permissions
Then, go to
Admin -> Appearance -> Style Properties -> [Nulumia] Read More Buttons
to customize the appearanace
Q: How can I change the "Read More" label?
A: Edit the phrase
nulumia_readmore_click_to_read_more