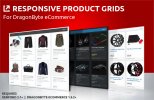 Responsive Product Grids for DragonByte eCommerce adds enhanced, improved product layouts for the popular shop addon by DragonByte Tech. By using flexible grids and device-friendly layouts, you'll have a more consistent appearance for your shop.
You can also customize elements of the grid items, such as limiting title characters or hiding the short descriptions!
Features:
Set number of products per row in the product grid list
New intelligent responsive grid: The layout attempts to use your specified number of products per row, but will scale to the next best setting when needed by available space.
Perfectly scales across screen sizes and devices - no messy media queries and warped product thumbnails!
Product grids are now in a classic floating appearance, instead of within a block, for a more modern UI
Control spacing between products in the grid
Matched layouts across What's New pages
Change What's New -> New Products page between list or grid, or set to inherit to use the main shop setting
Choose to hide product description previews
Limit the max character count of product description previews
Prevent long, overflowing product descriptions within widgets in the sidebar
Specify max products per row setting on a per-widget basis, giving you more control over your shop appearance!
Works great in all Nulumia free and paid themes
Should work great in many third-party themes. If you encounter an issue, feel free to request changes!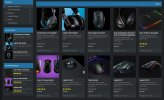 ** IMPORTANT - READ BEFORE DOWNLOAD **
By downloading this addon, you should understand the following:
1. This addon is temporary, and will be replaced at a later time.