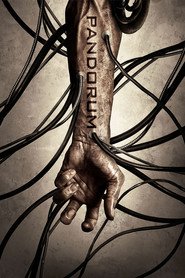 4.00/5 3 Votes
Title:
Pandorum
Tagline: Don't fear the end of the world. Fear what happens next.
Genre: Action, Horror, Science Fiction, Thriller
Director: Christian Alvart
Cast: Ben Foster, Dennis Quaid, Cam Gigandet, Antje Traue, Cung Le, Eddie Rouse, Norman Reedus, André Hennicke, Friederike Kempter, Niels-Bruno Schmidt, Asia Luna Mohmand, Delphine Chuillot, Wotan Wilke Möhring, Julian Rappe, Domenico D'Ambrosio, Jon Foster, Jeff Burrell, Neelesha BaVora, Yangzom Brauen, Marco Albrecht, Dawid Szatarski, Nico Marquardt, Don Jeanes, David P. Johnson
Release: 2009-09-08
Runtime: 108
Plot:
Two crew members wake up on an abandoned spacecraft with no idea who they are, how long they've been asleep, or what their mission is. The two soon discover they're actually not alone - and the reality of their situation is more horrifying than they could have imagined.