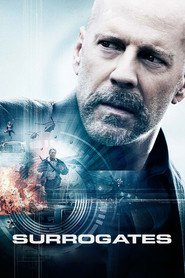 4.00/5 1 Votes
Title:
Surrogates
Tagline: How do you save humanity when the only thing that's real is you?
Genre: Thriller, Action, Science Fiction
Director: Jonathan Mostow
Cast: Bruce Willis, Radha Mitchell, Rosamund Pike, James Cromwell, Ving Rhames, Helena Mattsson, Boris Kodjoe, Ian Novick, Devin Ratray, Jack Noseworthy, Danny F. Smith, Jeffrey De Serrano, Michael Cudlitz, Trevor Donovan, Jennifer Alden, Michael Philip, James Francis Ginty, Andrew Haserlat, Justin Goodrich, Rachel Sterling, Meta Golding, Taylor Cole, Jordan Belfi, J.L. Highsmith, Lisa Hernandez, Kirk Hawkins, Nicholas Purcell, Max Murphy, Victor Webster, Valerie Azlynn, David Klefeker, Chad Williams, Mike Randy, Michael DeMello, Ron Murphy, David Conley, Bruce-Robert Serafin, Cody Christian, Todd Cahoon, Ella Thomas, Gabriel Olds, Eamon Brooks, Rick Malambri, Anya Monzikova
Release: 2009-09-24
Runtime: 89
Plot:
Set in a futuristic world where humans live in isolation and interact through surrogate robots, a cop (Willis) is forced to leave his home for the first time in years in order to investigate the murders of others' surrogates.