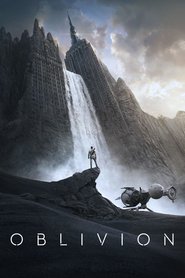 3.00/5 1 Votes
Title:
Oblivion
Tagline: Earth is a memory worth fighting for
Genre: Action, Adventure, Mystery, Science Fiction
Director: Joseph Kosinski
Cast: Tom Cruise, Morgan Freeman, Olga Kurylenko, Andrea Riseborough, Nikolaj Coster-Waldau, Melissa Leo, Zoë Bell, Abigail Lowe, Isabelle Lowe, David Madison, John L. Armijo, Fileena Bahris, Joanne Bahris, Andrew Breland, Lisa Raziano
Release: 2013-04-10
Runtime: 126
Plot:
Jack Harper (Tom Cruise) is one of the last few drone repairmen stationed on Earth. Part of a massive operation to extract vital resources after decades of war with a terrifying threat known as the Scavs, Jack's mission is nearly complete. His existence is brought crashing down when he rescues a beautiful stranger from a downed spacecraft. Her arrival triggers a chain of events that forces him to question everything he knows and puts the fate of humanity in his hands.