Administrator
Validated XF Owner
0.00 star(s)
Rating: 0.00/5 0 Votes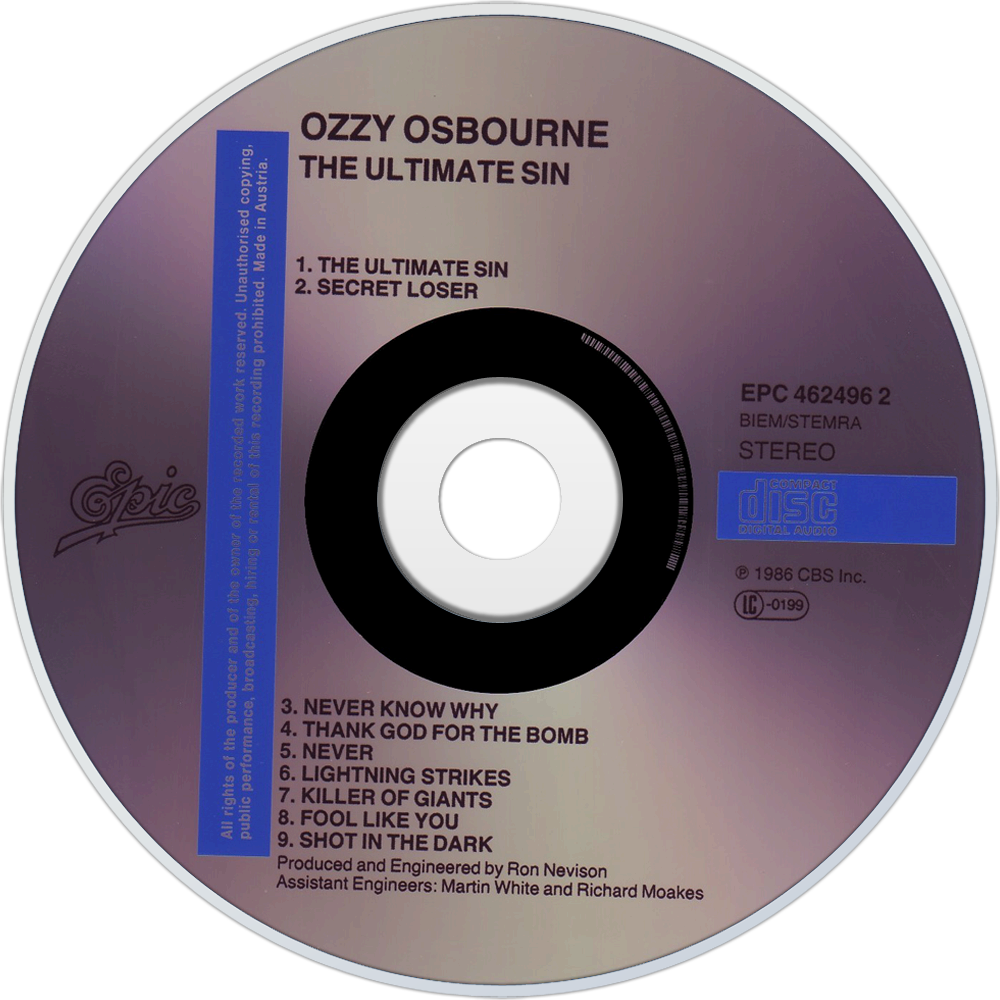 Title:
The Ultimate Sin
Artist:
Ozzy Osbourne
Genre:
Heavy Metal
Released:
1986
Tracks:
1 - The Ultimate Sin - 3:43

2 - Secret Loser - 4:08
3 - Never Know Why - 4:27
4 - Thank God for the Bomb - 3:53
5 - Never - 4:21
6 - Lightning Strikes - 5:12

7 - Killer of Giants - 5:41
8 - Fool Like You - 5:18
9 - Shot in the Dark - 4:16

Overview:
The Ultimate Sin is the fourth studio album by British vocalist Ozzy Osbourne. It was released on 22 February 1986, and it was remastered and re-issued on 22 August 1995. This album features guitarist Jake E. Lee (formerly of Mickey Ratt, Rough Cutt and Dio).

The Ultimate Sin is the first and only Osbourne album to feature bassist Phil Soussan (who wrote the album's U.S. hit single "Shot in the Dark") and the first to feature drummer Randy Castillo, who had previously played in Lita Ford's band. Lyrics were largely written by long-time Osbourne bassist and lyricist Bob Daisley. Daisley left prior to recording after having a disagreement with Osbourne, prompting the hiring of Soussan as his replacement. Daisley was not credited for his songwriting contributions on the initial 1986 pressing of the album, though this was corrected on subsequent pressings.

Drummer Jimmy DeGrasso worked with Lee and Daisley on demos for the album, but this version of the band fell apart due to Osbourne's commitment to the Black Sabbath summer 1985 reunion concert at Live Aid; Randy Castillo and Phil Soussan ultimately replaced DeGrasso and Daisley once recording commenced.

The working title for the album was Killer of Giants[citation needed] (after the album's song of the same name). Osbourne opted to change the title to The Ultimate Sin at the last minute.

At the time of its release, The Ultimate Sin was Osbourne's highest charting studio album, as heavy metal was enjoying a surge in popularity during the mid-1980s. The RIAA awarded the album Platinum status on 14 May 1986, soon after its release; it was awarded Double Platinum status on 26 October 1994. The album sold over 2,000,000 copies worldwide. In the UK, it was the final of four Osbourne albums to attain Silver certification (60,000 units sold) by the British Phonographic Industry, achieving this in April 1986.