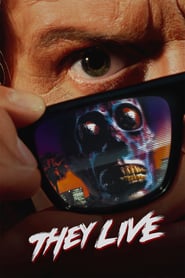 0.00/5 0 Votes
Title:
They Live
Tagline: You see them on the street. You watch them on TV. You might even vote for one this fall. You think they're people just like you. You're wrong. Dead wrong.
Genre: Action, Horror, Science Fiction, Thriller
Director: John Carpenter
Cast: Roddy Piper, Keith David, Meg Foster, George Buck Flower, Peter Jason, Raymond St. Jacques, Jason Robards III, John Lawrence, Susan Barnes, Sy Richardson, Wendy Brainard, Lucille Meredith, Susan Blanchard, Norman Alden, Dana Bratton, John F. Goff, Thelma Lee, Stratton Leopold, Rezza Shan, Norman Howell, Tom Searle, Robert Grasmere, Vince Inneo, Bob Hudson, Jon Paul Jones, Dennis Michael, Nancy Gee, Claudia Stanlee, Christine Anne Baur, Eileen Wesson, Gregory J. Barnett, Jim Nickerson, Kerry Rossall, Cibby Danyla, Jeff Imada, Michelle Costello, Norman D. Wilson, Larry Franco, Jeb Stuart Adams, Jennifer Austin, Michael Forino, Robert V. Greene, Helen Kelly, Al Leong, Gunnar Magg, Matt McColm, Tommy Morrison, Larry J. Franco
Release: 1988-11-23
Runtime: 94
Plot:
Nada, a wanderer without meaning in his life, discovers a pair of sunglasses capable of showing the world the way it truly is. As he walks the streets of Los Angeles, Nada notices that both the media and the government are comprised of subliminal messages meant to keep the population subdued, and that most of the social elite are skull-faced aliens bent on world domination. With this shocking discovery, Nada fights to free humanity from the mind-controlling aliens.