Member
Applications Owner
TMDb Threads Owner
TV Threads Owner
Thread Perms Owner
1.00 star(s)
Rating: 1.00/5 1 Vote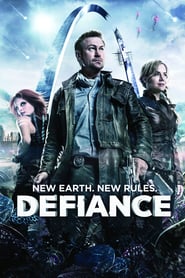 Title:
Defiance
Genre: Action, Drama, Science Fiction
First aired: 2013-04-15
Creator: Rockne S. O'Bannon, Kevin Murphy, Michael Taylor
Cast: Grant Bowler, Stephanie Leonidas, Tony Curran, Jaime Murray, Graham Greene, Nichole Galicia, Anna Hopkins, Julie Benz, Jesse Rath
Overview:
Defiance is an American science fiction television series developed by Rockne S. O'Bannon, Kevin Murphy, and Michael Taylor. The series is produced by Universal Cable Productions, in transmedia collaboration with Trion Worlds, who are producing an MMORPG video game of the same name, which will be tied into the series. The show takes place in the future on a radically transformed Earth containing new species arriving from space. In the show, Joshua Nolan works as the lawman for the town of Defiance, a community where humans and intelligent extraterrestrial species coexist. The show follows Nolan, his adopted alien daughter Irisa, and the town's new mayor Amanda Rosewater. The series is broadcast in the United States on the cable channel Syfy and in various international markets. It premiered on April 15, 2013, in the United States and that same week in most countries that picked up the series. On May 10, 2013, Syfy renewed the series for a 13 episode second season to premiere in June 2014.