New Member
Applications Owner
Raffles Owner
5.00 star(s)
Rating: 5.00/5 2 Votes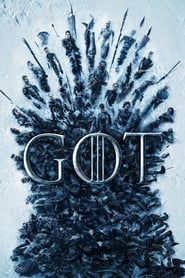 Title:
Game of Thrones
Genre: Drama, Fantasy
First aired: 2011-11-02
Creator: D. B. Weiss, David Benioff
Cast: Emilia Clarke, Kit Harington, Peter Dinklage, Lena Headey, Nikolaj Coster-Waldau, Sophie Turner, Maisie Williams, Iain Glen, Alfie Allen, Liam Cunningham, John Bradley, Conleth Hill, Aidan Gillen, Gwendoline Christie, Isaac Hempstead-Wright, Kristofer Hivju, Nathalie Emmanuel, Jacob Anderson, Jerome Flynn, Rory McCann
Overview:
Game of Thrones is an American fantasy drama television series created for HBO by David Benioff and D. B. Weiss. It is an adaptation of A Song of Ice and Fire, George R. R. Martin's series of fantasy novels, the first of which is titled A Game of Thrones. The series, set on the fictional continents of Westeros and Essos at the end of a decade-long summer, interweaves several plot lines. The first follows the members of several noble houses in a civil war for the Iron Throne of the Seven Kingdoms; the second covers the rising threat of the impending winter and the mythical creatures of the North; the third chronicles the attempts of the exiled last scion of the realm's deposed dynasty to reclaim the throne. Through its morally ambiguous characters, the series explores the issues of social hierarchy, religion, loyalty, corruption, sexuality, civil war, crime, and punishment.